Tree Services
J & S Landscaping maintains its own 3-acre farm with thousands of sapling trees under cultivation. We specialize in native and established Ontario species that are well-suited to our local climate.
Design consultation
---
Ask J & S for professional advice on selecting trees to match your soil conditions, the site environment, and the purpose of your planting. We will be pleased to recommend the best species to meet your needs for privacy, wind and snow protection or recreational space as well as salt tolerance and hardiness.
Supply and service
---
Our farm is currently delivering trees in the range of 3 ft. to 5 ft. height (1 m to 1.5 m). We are able to fill orders of 25 to 50 units to be installed by your crew or by ours. We plant our trees by hand with care, and also offer follow-up watering service to maximize survival rates during the critical first few weeks after installation.
Our promise
---
Warranties for our tree supply and service are available, with terms matched to your specific site conditions and choice of species. Longer terms are offered when your order includes planting and watering service by J & S Landscaping.
Please call 519.872.5263 for current quantities and availability.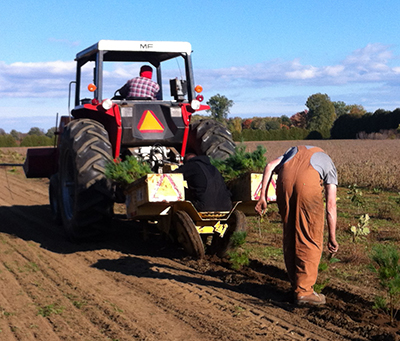 List of species
Blue spruce
Serbian spruce
White pine
Norway spruce
Burr oak
Paper birch